Champions League takeaways: Some big clubs ready to hit panic button?
Updated: October 21, 2020
After every Champions League matchday, Sportsplay highlights the marquee developments from Europe's preeminent club competition.
Solskjaer again solidifies position in Paris
The faction of Manchester United supporters calling for Ole Gunnar Solskjaer's head is undoubtedly a conflicted group in the wake of Tuesday's result in Paris.
Harry Maguire and Eric Bailly were left at home, and still, Solskjaer risked employing a back-three in a 3-4-1-2 setup that flanked Victor Lindelof with Luke Shaw and Axel Tuanzebe, the latter making his first appearance in 10 months. It was a decision made with PSG's lethal front-three in mind.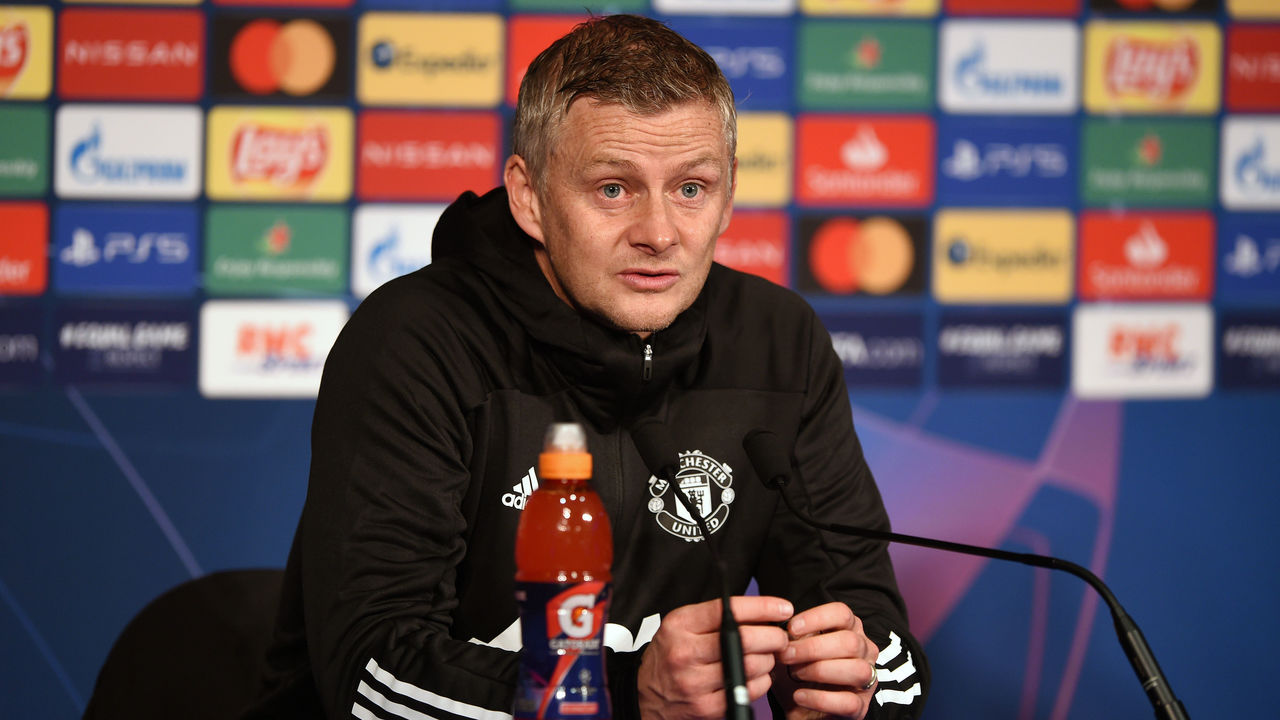 Tuanzebe was excellent, twice critically matching Kylian Mbappe for pace on threatening forays while Aaron Wan-Bissaka lurked nearby in support as the Red Devils' duo smothered PSG's left side. Shaw was dutiful, and more importantly, protected from making errors in isolation, and Fred and Scott McTominay were industrious in the midfield. The plan was always to cede possession – PSG had 66% on the night – and stretch the match on the counter, something Anthony Martial and Marcus Rashford did in repeatedly exposing the hosts' fragilities.
The last time United toasted a memorable night in Paris, they recorded a stunning 3-1 victory that all but guaranteed Solskjaer's permanent appointment. Tuesday's result might be as fruitful for a manager never far from the hot seat.
Tuchel to blame for PSG's plodding midfield
If Solskjaer deserves praise, then PSG coach Thomas Tuchel merits the opposite.
Tuchel's answer to the absences of Marco Verratti and Leandro Paredes was to field three defensive midfielders: Danilo Pereira, Ander Herrera and Idrissa Gueye. Their efforts were plodding and pedestrian, though it's not entirely their fault. You wouldn't ask a drywall guy to fix a leaky faucet.
When Moise Kean was brought on for Gueye at the interval, Neymar dropped behind the striker, and PSG sprung to life almost immediately. United remained staunchly organized, and Tuchel's decision to replace Herrera with Rafinha 10 minutes from time came too late.
The clock is ticking for Tuchel, and perhaps it's time that Mauricio Pochettino – who has been linked with succeeding Solskjaer at United – enters the picture for a return to the French capital instead.
Chelsea's backline more assured with Silva
On the evidence of the first goalless draw of Frank Lampard's managerial tenure at Chelsea, Thiago Silva could be the man to bring much-needed organization and composure to the Blues' rearguard.
It might be a lot of expectation to place on a 36-year-old's shoulders, but his authoritative role in a quartet rounded out by Reece James, Kurt Zouma, and Ben Chilwell helped Chelsea flip the script: They were defensively sound while offering less attacking potency than you'd expect from a stacked Timo Werner-led frontline.
Although Antonio Rudiger or Fikayo Tomori would probably be better central defensive partners for Silva, Zouma did look more at ease alongside the veteran Brazilian. Also, the presence of Edouard Mendy between the sticks, rather than the error-prone Kepa Arrizabalaga, should've allayed any pre-match nerves for Silva, Zouma & Co.
"The concentration and focus to get the result was big from the team," Lampard said post-match, as quoted by BBC Sport. "We made a lot of good decisions, so it's a really nice place for us to build from."
Camavinga cruises into competition
Tuesday's 1-1 home draw against Krasnodar was a rather inauspicious way for Rennes to begin their first Champions League campaign, especially given the visitors' inconsistent domestic form and the fact they were without their head coach and two key players due to inconclusive COVID-19 tests.
It was also a shame that there wasn't a bigger stage for Eduardo Camavinga, Rennes' 17-year-old sensation, to introduce himself to the competition.
Through his 81 minutes on the pitch, the French midfielder logged the most shots on target across both teams, drew more fouls than any of his teammates, and seldom wasted possession with a passing accuracy of 95.2%. It wasn't exactly a statement performance from Camavinga, but it was mature.
And to further underline how young Camavinga is to be playing with such poise in the Champions League, he spent part of the following day in a driving lesson.
Perfect situation for Morata to thrive
Fair or not, Alvaro Morata is widely viewed as a timid player; his Chelsea spell, which, let's not forget, got off to a very promising start before fizzling out, plays an outsize role in forming that conception.
But the Spaniard, back at Juventus, may now find himself in the perfect situation to succeed.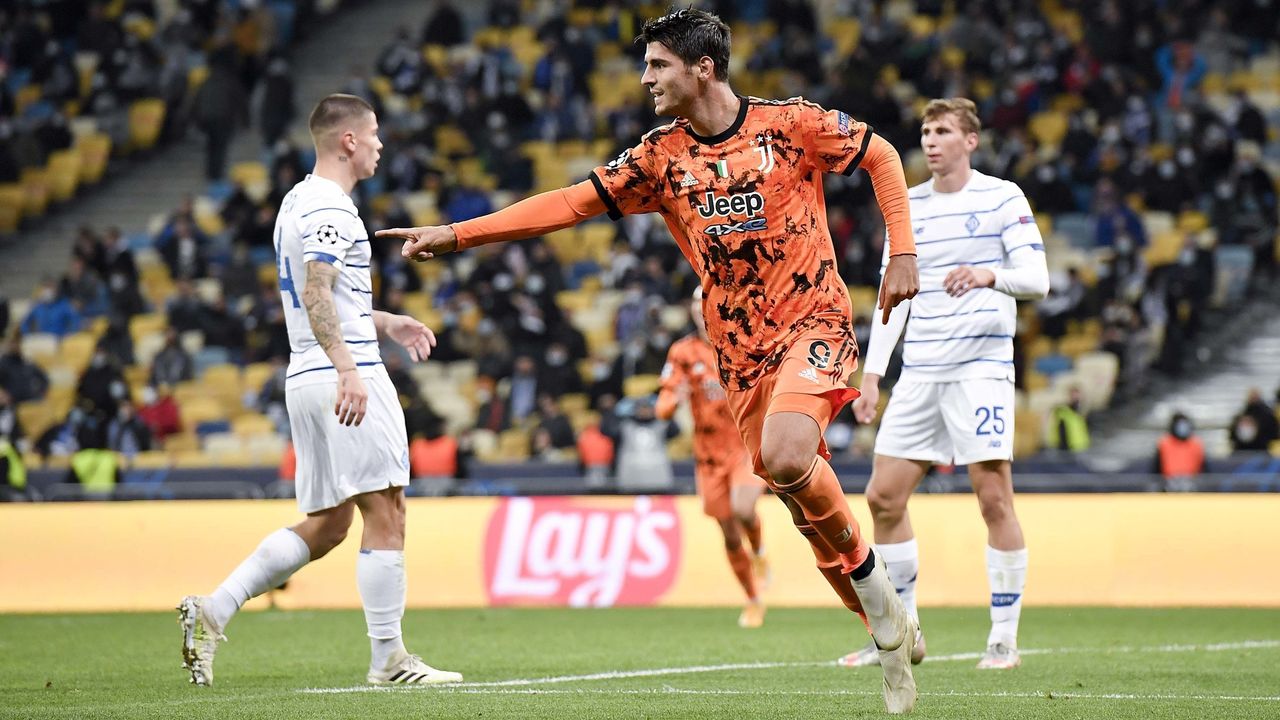 Coming off a solid season with Atletico Madrid – Morata ranked among La Liga's top performers in a variety of advanced statistical categories despite playing for a notoriously defensive manager – the 27-year-old has carried that form into the new campaign. His second stint with the Italian club has begun with three goals in as many matches, including both tallies in Tuesday's 2-0 win over Dynamo Kyiv. His first, a rebound from inside the 6-yard box, highlighted the predatory instincts that managers love to see from their No. 9, and his second showed off his elite heading ability, which has always been the best part of his game.
More importantly, though, in former teammate Andrea Pirlo, Morata has a manager who appears to truly believe and trust in him. Cristiano Ronaldo's impending return – along with Paulo Dybala regaining full fitness – will inevitably eat into Morata's playing time, but backed by Pirlo, the Spanish striker could be in line for a career season.
What's wrong with Real Madrid?
Conceding three goals in the first half against Shakhtar Donetsk – at home, no less – is one thing. Doing so against this version of Shakhtar, though, is inexcusable. That's not a shot at the Ukrainian side, either; Luis Castro's team is quick and inventive, spurred on by an enticing collection of Brazilian talents.
But Shakhtar went into Wednesday's match against Real Madrid missing 10 first-team players amid a COVID-19 outbreak that resulted in 19 positive tests throughout the club.
"This is a nightmare," Castro said ahead of the contest. "It is a nightmare for all humanity; and to the extent that teams are a segment of society, it will also affect us. I never thought something like this could happen to us. Running out of so many footballers for a game. Is incredible. But it is the world we have today."
But having 13 healthy players available, including a goalkeeper, meant Shakhtar, by UEFA rules, had to play the reigning Spanish champions. Not only did they play, they tore them apart, building a stunning 3-0 lead in the first half before hanging on for a 3-2 win. In truth, were it not for some spurned chances, the scoreline would have been even more humbling for Madrid, who have now lost two consecutive matches after dropping a La Liga fixture to Cadiz last weekend.
Up next, El Clasico. Zinedine Zidane needs to sort things out quickly.
Manchester City's next generation finding its feet
Manchester City weren't great in Wednesday's 3-1 win over FC Porto but, amid the misplaced passes and desperate fouls that littered the game before a third goal brought comfort, there was evidence of a younger generation finally making its mark on Pep Guardiola's team.
At 23, Ruben Dias may have the leadership skills required to partly compensate for the 2019 departure of Vincent Kompany and the overall quality to form a reliable duo with Aymeric Laporte at the back; Rodri is starting his second season with the club and is only 24; defender Eric Garcia, 19, started and the 12-man bench included six academy graduates. And most promising of all was the combination between substitutes Phil Foden and Ferran Torres – both aged 20 – shortly after they were brought on.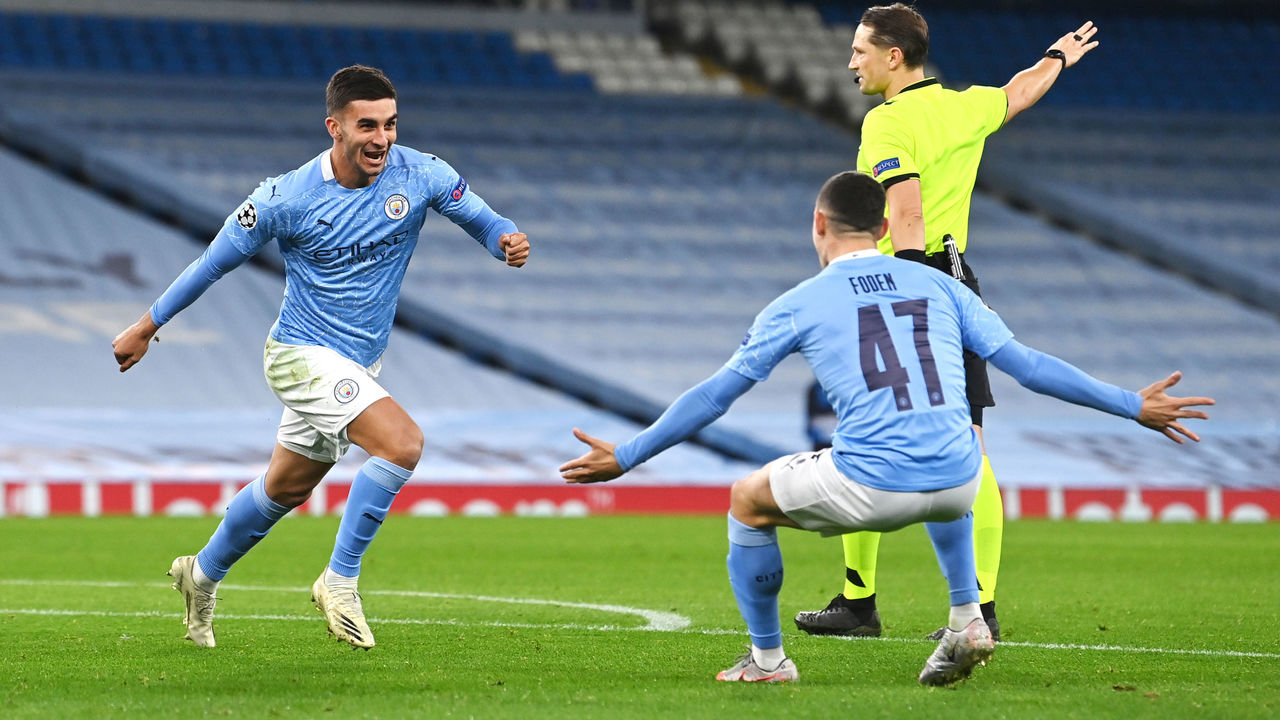 Torres helped the ball down the left flank for Foden, who then returned the favor with a neat pass to meet Torres' run to the corner of the 18-yard box. The Spanish winger was then clinical as he breezed past Pepe before curling the ball into the top corner. Torres' introduction to English football has been gradual thus far with just three starts, but he's already up to two goals and one assist across all competitions in 2020-21.
Bayern Munich won't give up title easily
In their latest exhibition of dominance, Bayern Munich showed the rest of the competition on Wednesday why they're considered favorites to repeat as champions.
Bayern's 4-0 win over Atletico Madrid was their 12th in a row in the Champions League – and as lopsided as the score suggests. Though the Spanish side had a couple of chances early on, the Bundesliga giants ran away with the contest in typical fashion. Even without Robert Lewandowski at his best, Bayern managed to inflict a world of hurt on Diego Simeone's side.
Instead, it was Bayern's midfield that went to work. Joshua Kimmich ran the show as usual, using his all-around skill to set up the first goal with a spectacular ball over the top.
The counterattack was equally effective. Bayern roasted Atletico's backline with their pace of play, getting into scoring position mere seconds after stealing possession. Kingsley Coman was a particularly effective outlet. He controlled long balls like they were nothing, and his dribbling forced Atletico to retreat many a time.
In other words, Bayern still have the pieces to make another deep run in the Champions League. Atletico were only in the way.
Fabinho admirably fills in for Van Dijk
Those blessed to take in the midweek Champions League slate might not have noticed Virgil van Dijk's absence on Wednesday in Amsterdam.
Liverpool eked out a 1-0 win over Ajax to open Group D play, and Fabinho deserves plenty of praise for deputizing for Van Dijk as Jurgen Klopp's charges won their first outing sans the injured Dutch defender.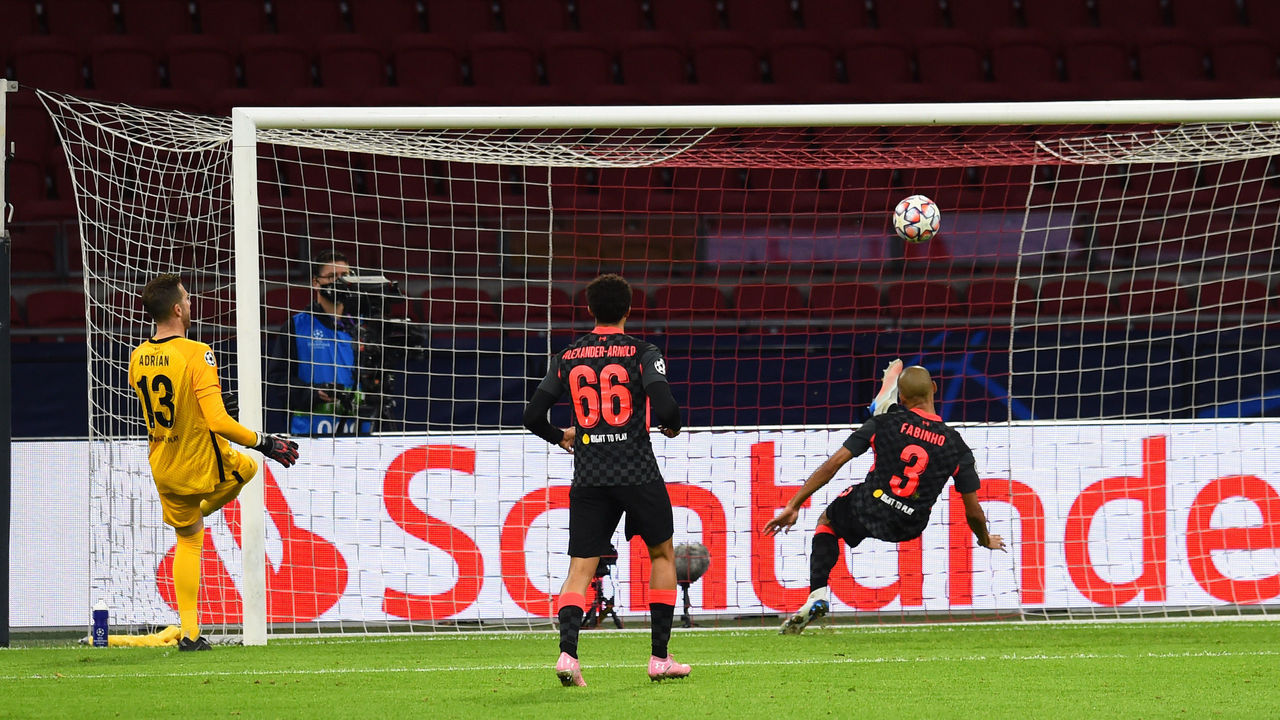 Fabinho dropped back from his usual midfield role to pair with Joe Gomez to stellar results, and if Liverpool looked uneasy at the back early on, blame Adrian. Alisson's understudy looked uncertain and gifted the hosts an opener before finding his nerve to make some key saves.
An acrobatic goal-line clearance highlighted a Fabinho performance noted for dominant aerial play and composed organization reminiscent of Van Dijk. It's only been one match, but Liverpool could do worse than lean on Fabinho in Van Dijk's void.